Leave Management - Dealing With People, Laws, Processes
May 13, 2014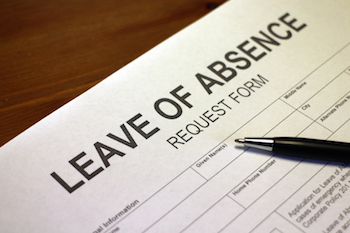 At some point in our work lives many of us will need to take an extended medical or personal leave of absence. Medical leaves of absence include taking time off to give birth and to receive treatment for or recover from an illness or injury. Personal leave may entail taking time off to care for or support a family member who is ill or injured.

There are federal and state laws and employer policies and programs that allow employees to take time off from work for these types of absences. Benefits professionals must be aware of these laws to administer their leave programs properly. In addition, they need to stay apprised of related case law decisions to understand how the courts interpret them. And, of course, benefits pros need to communicate these laws, policies and programs to employees and supervisors in putting them to use.


Top Challenges of Leave Management


All of this sounds pretty straightforward but it is not. In fact, leave administration was always my least favorite function to perform for several reasons.

The laws are complex, interconnected and overlapping. For example, an employee may have a leave situation that involves the Family and Medical Leave Act (FMLA), Americans With Disabilities Act (ADA) and Workers' Compensation (WC)

or

FMLA, ADA and a short- or long-term disability policy

The leave situations are not always clear and require some investigating to figure out

Employees may delay answering questions and completing paperwork to justify and document the leave

Supervisors may express exasperation and hostility. Often questioning the legitimacy of the need for leave and its duration

And, the electronic leave management systems we use to track leave don't always work in the real world. You need a system that is compatible with your HR and Payroll systems and takes into consideration the various federal and state laws and company policies
My greatest challenge with leave management/administration is working with supervisors and, to a much lesser extent, employees. The complexity of the laws and electronic systems are the things I enjoy most. But working with an insensitive supervisor or an entitled employee makes leave management more like babysitting. It is amazing how something as important as taking time off for your health or to take care of a loved one can turn the workplace into a battleground.

I once heard a supervisor say that she was not surprised that an employee who had a heart attack would take the entire 12-weeks of FMLA leave because he was always a problem employee. Pretty cold. But employees can be equally insensitive to the needs of their employer. Often mistakenly believing that their need for medical or personal leave entitles them to do whatever they want. I once worked with an employee diagnosed with cancer who would leave work whenever she had a disagreement with her supervisor. She claimed the stress made her feel ill.


Conquering Leave Management Challenges


Leave management is more about managing the feelings and actions of supervisors and employees than anything else. To have a successful leave management system, you must be extremely knowledgeable about related federal and state leave legislation and case law, as well as your company's leave policies. Your knowledge will protect your organization from claims of discrimination while assisting employees in getting the time off they are entitled to. It will also help you manage the battles that may erupt between supervisors and employees.


To learn more about FMLA, log onto the DOL website -

http://www.dol.gov/whd/fmla/

To learn about state leave laws, log onto the state government website where the employee works (for example, the District of Columbia has its own FMLA leave law and California has a personal family leave law as well)

To learn more about ADA, log onto the DOJ website -

http://www.ada.gov

To learn more about workers' compensation, log onto the DOL website for a list of each state's WC website -

http://www.dol.gov/owcp/dfec/regs/compliance/wc.htm

Learn everything about the short- and long-term disability policies your organization offers by reading all plan documentation (don't just focus on how employees apply for coverage and the basic benefits they receive and for how long)

Create or purchase an automated tracking system for leave using Excel or a standalone leave management system. Your Human Resources Management (Information) System (HRMS/HRIS) may already include a leave module that is not being used

Maintain detailed documentation (eligibility, approval, dates, insurance payments, retirement plan participation, telephone conversations, emails and any additional notes about)

Don't forget privacy (supervisors and managers don't need to know everything about a leave request; just that their employee is eligible for leave and the expected leave duration)

What do you find most challenging about leave management?