The One Thing Almost Every Benefits Dept. Gets Wrong
March 25, 2014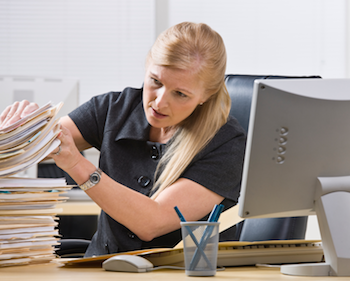 Setting up employee benefits plans requires the production of a lot of plan materials. And once these plans go live, the employer must create and maintain multiple plan documents. This is usually where things start to go wrong.


Types of Employee Benefit Plan Documents
Insurance Contract or Agreement

Corporate Resolution (for health plan and retirement plans; authorizes establishment of the plan)

Summary of Benefits Coverage (SBC) (usually a two to four-page summary of basic plan features and costs)

Certificate of Coverage (COC) (detailed description of the plan's benefits; usually provided by the insurer)

Summary Plan Description (SPD) (usually includes the COC plus the required ERISA language and special notices such as HIPAA Privacy Notice, Medicare Part D Notice of Creditable Coverage, Medicaid and CHIP, Newborn and Mother's Protection Act, Special Enrollment Rights, Women's Health Cancer Rights Act. Is basically a summary of the plan document meant for employee consumption)

Plan Document - (technical document of little use to employees as it is intended to serve as a guide to the plan administrator (employer) in how to carry out the provisions of the plan)

These documents are important from both a legal and employee education perspective. Employers are required by law to have a SPD and Plan Document for each plan. Every employee who enrolls in a benefit plan must receive that plan's SPD within 90 days of the enrollment. In addition, employers must administer their plans in accordance with the terms and conditions outlined in the Plan Document. The integrity of these documents is the top priority of every employee benefits department. NOT!

Non-existent, outdated, or ignored is a good way to describe the state of the benefits documents in many organizations. It is the dirty little secret of the employee benefits professional. Below are some of the reasons why.


Why Are Benefit Plan Documents Neglected or Ignored
Some organizations do not have professional benefits staff and do not know what is required

Some organizations do have professional benefits staff and do not know what is required

Some organizations believe that the documents they receive from the insurer or third party administrator are the only ones they need and are complete and accurate

Some benefits department leaders believe in a once and done approach to plan documentation, never bothering to update outdated information, or they simply forget to amend the documents when changes are made

Some benefits department heads believe that there is little risk in noncompliance

Some senior managers do not want to pay for the necessary legal services to draft or review plan documents such as the SPD and Plan Document
The Biggest Obstacle to Maintaining Employee Documents


Maybe the greatest challenge to creating, maintaining and complying with benefit plan documents is management. Benefit department heads and the people they report to want the flexibility and discretion to administer the plans as they see fit. And those annoying little documents can get in the way of that. In addition, maintaining up-to-date benefit plan documents is time consuming and can cost a lot of money.

No worries. Resourceful benefit pros like yourself can find a way to fulfill your obligation to possess and maintain current and accurate plan documents. Here a few things you can do...

Make a list of all of your employee benefit plans in Excel

Inventory the plan documents you have for all of these plans (at a minimum, make sure you have a Summary Plan Description (SPD) for each health and welfare plan and retirement plan)

Review plan documents for completeness and accuracy. Are all the required legal notices and other language included in the document? You can obtain model notices from the DOL website or purchase one from a private publisher like Thompson Media Group. You can also go online and view other employer's SPDs. Many employers post their SPDs online for easy access by their employees, but these documents are often accessible by anyone

Make sure you have a signed contract or agreement for each benefit plan and third party contract. If you do not have one, email your insurance rep. or TPA to request a signed copy. Someone signed one at some time and you can be certain that the insurer and TPA kept their signed copy

Make sure you have a signed company resolution establishing each plan. These resolutions may be maintained by the Finance Department so start there first. If no one at the company has one, draft one and get it signed. You can find sample resolutions online

Update each Plan Document to reflect how the plans are actually being administered

Make sure you have at least a digital copy of each plan document

Hire an attorney to review your Plan Documents and SPDs or create a "wrap" document

Review your benefit plan documents at the start of each fiscal or calendar year and make any needed updates

Creating and maintaining legal and education-related documentation for employee benefit plans is the heart and soul of benefits administration. Often, these documents are either missing or scattered throughout the organization in their original form. Some managers are willing to tolerate this level of "non-compliance" because they assume the consequences are small and rare. Well, the consequences have never been small and the likelihood of exposure is increasing. The time to get your benefit plan documents in order is before you are sued or audited.

Do you have a system to maintain your benefit plan documents?