Take The "Fair" Out of Health & Wellness Fairs
May 06, 2014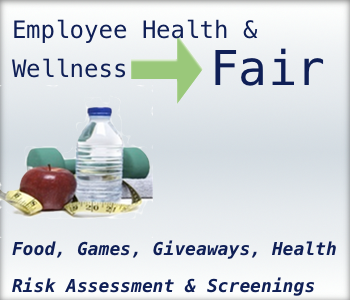 Who doesn't like to attend a good fair? There is always great food, prizes, and a variety of activities to engage in. Unfortunately, this is how too many employee benefits offices approach the annual health and wellness fair. It is an opportunity to put on a good show and entertain employees. This exercise of style versus substance is not always intentional, sometimes it just happens. I should know because it happened to me


Giveways, Food, and Activities


My first experience leading a workplace health and wellness fair was in the late 1990s. With a committee of employee volunteers, we hosted a fall wellness fair that was textbook perfect. Committee members arranged for food, prizes, and facility decorations. Local businesses donated prizes like athletic sneakers and apparel, gym membership discounts, free massages and more. We collected enough free prizes to give every employee at least one. And I am not talking about those insurance company giveaways like chip clips and toothbrushes, but we had those too.

Committee members cooked the food, which included healthy fall soups, a ton of vegetable lasagna, baked chicken curry egg rolls, roast turkey and cheese sandwiches and a few other items. The fall theme decorations met you at the door of the facility and continued throughout--a "welcome to wellness" banner, bales of hay, fall flowers, pumpkins and other squash sitting on fall colored blankets.

We invited outside participants like health insurance company reps and third party administrators, and individuals from the local wellness and fitness communities including Weight Watchers and the American Heart Association. The insurer representatives did biometric screenings (this was before HIPAA) and answered general plan questions. A yogi put on yoga demonstrations. Two local massage therapists provided free massages. Our workplace had a large facility that included a gymnasium and kitchen, which allowed all of our 100+ employees to attend the fair together.


Great Success or Epic Fail


By all accounts the fair was a smashing success. It was the first ever health and wellness fair the company hosted and even the most difficult to please employees said it was the best event the company ever offered. Our insurance company reps said it was the best benefits/wellness fair they ever attended. The head of the organization raved about the fair in a senior staff meeting, citing it's extremely low cost and great reception by employees. And I took the committee members out for a celebratory lunch because I too thought it was a near flawless event.

It took me years to realize that the event was neither a complete success nor failure; it was simply an event with no real objectives or measurable outcomes. One of the most fun projects I ever led had no lasting benefits. It was a tough pill to swallow for someone who genuinely cares about the well being of others. I had a real chance to make a positive impact on over 100 families and I squandered the opportunity. And my failure went completely unnoticed by everyone.

So what did I learn from hosting the best health and wellness fair ever? If you want employees to focus on improving their physical and mental health, focus a little less on the "fair" and more on the health and wellness.

Do you think health and wellness fairs are more about fun than health and wellness?